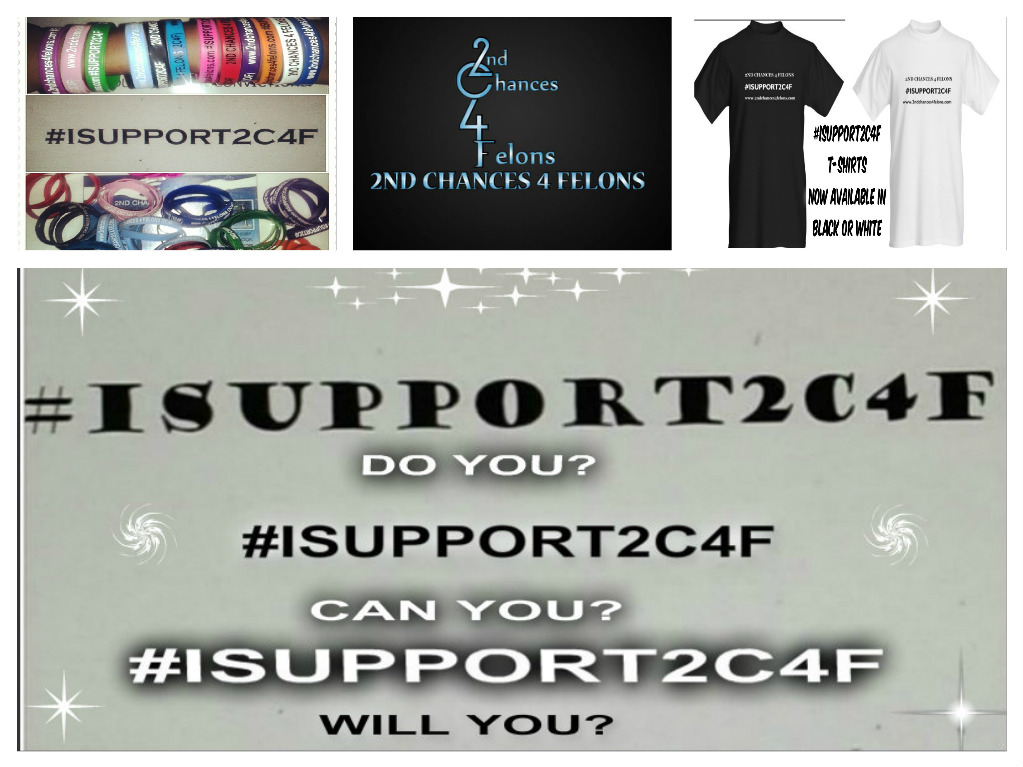 #ISUPPORT2C4F, DO YOU? CAN YOU? WILL YOU?
Dare to reach out your hand into the darkness, to pull another hand into the light. ~Norman B. Rice
Since 2010, 2nd Chances 4 Felons (2C4F), has been fully funded and maintained by myself, Mae Hughes, the owner and creator of the company. With a strong desire to offer more to those in need of the services that my company provides, I have outlined plans to host a number of upcoming fundraising events for 2C4F. The items being offered are 2C4F exclusive merchandise and extended in appreciation for donating to such a worthy cause. The main benefit of purchasing these items is that you will be supporting 2C4F with making improvements, expansions, and continuing to offer assistance to those who are in great need of it. All services offered by 2C4F are 100% FREE to those in need of them and instead of assessing a fee for the assistance the felons receive, it is my desire to raise the funds for the necessary improvements and make 2C4F the best company possible and the go to source for resources, jobs, and other areas of life improvement options for felons in need of them.
Since the inception of 2C4F, it has assisted a number of felons from all across the United States with gaining employment and restoring hope where it appeared that all was lost. Being a felon myself, my primary goal is to help other felons who are experiencing the struggles I faced when looking for a second chance. I was at my breaking point, and at my wits end when I created 2C4F, and without it I don't know where I would be. While building this company, I enrolled in college and obtained a degree in Business. This degree has allowed me to build a company that aids in the fight against recidivism as well as in helping to reduce the number of felons who give up due to not being aware that there are 2nd Chances 4 Felons right at their fingertips.
From the beginning until this very day, countless hours have been invested into making it the company what it is today. Although we have achieved great things thus far, we far from done. Despite my own struggles and stumbles in life, I have dedicated myself to easing the struggles that other felons face. The desire of 2C4F is to offer FREE assistance to those who have been convicted of a felony, who are looking for second chance opportunities, and those of us who are willing to work hard and prove that there are some felons who deserve 2nd chances.
Current Fundraising Opportunities:
#ISUPPORT2C4F merchandise (AVAILABLE ON THIS SITE)
I appreciate in advance those of you who are willing to support this cause by participating in current campaigns and any future fundraising events. All funds raised will be put solely towards the desired improvements and expansions of the company.
To find out more about 2C4F please take some time out to explore the website and 2C4F's Facebook page. Thank you so much for taking time out to visit this page.
If you have further questions, comments, or concerns, feel free to contact us.
Sincerely,
Mae Hughes, CEO & Founder of 2C4F
#2C4FCEO
(P) 214-900-4265
#ISUPPORT2C4F MERCHANDISE
WOULD YOU LIKE TO PURCHASE #ISUPPORT2C4F MERCHANDISE

PLEASE DO SO BELOW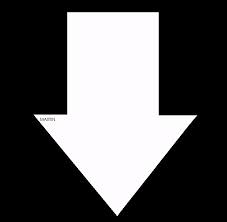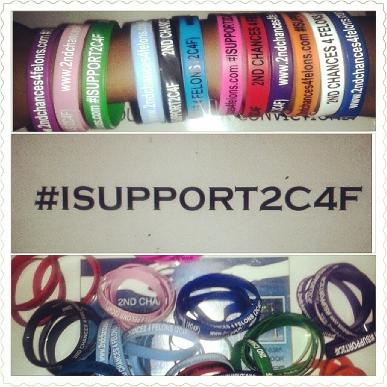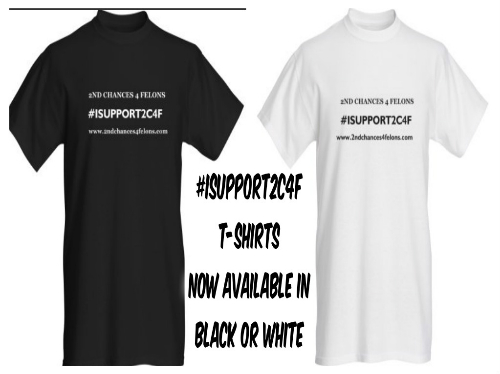 #ISUPPORT2C4F SUPPORT PACKAGES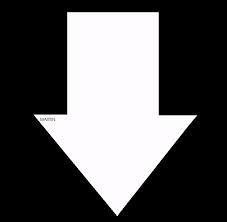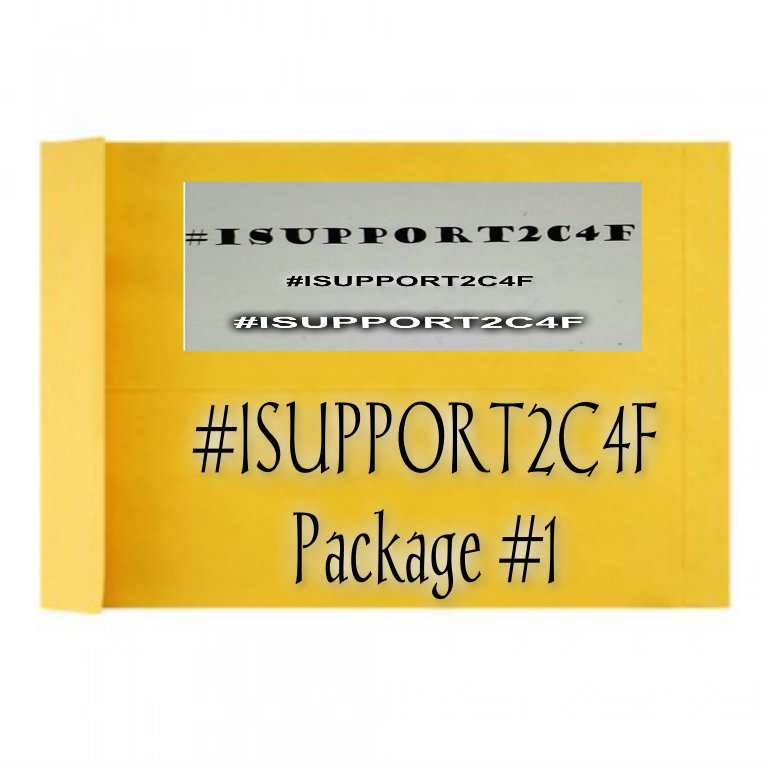 #ISUPPORT2C4F PACKAGE #1
(Package includes 2 Wristbands & 1 Magnet)

$5.00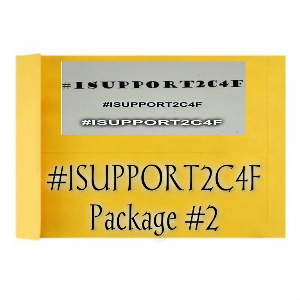 #ISUPPORT2C4F SUPPORT PACKAGE #2

(Package includes T-shirt & Wristband)

(sizes S-XL) $17.00
(See Additional Sizes & Prices Below)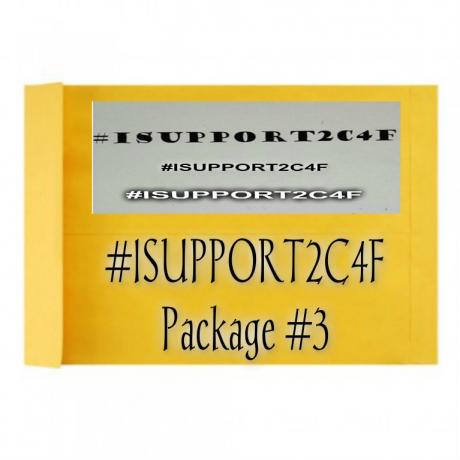 #ISUPPORT2C4F SUPPORT PACKAGE #3
T-shirt sizes S-XL $20.00
(Additional sizes & prices below)

(Package includes ALL #ISUPPORT2C4F plus a FREE gift)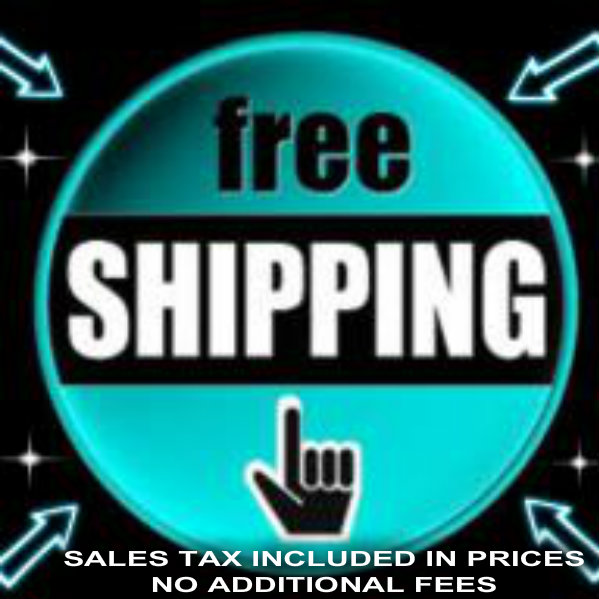 IF YOU WOULD LIKE TO DONATE TO 2C4F WITHOUT PURCHASING #ISUPPORT2C4F ITEMS
YOU MAY DO SO BELOW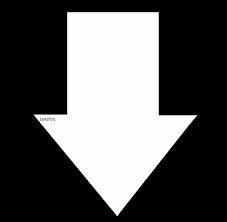 ALL PAYMENTS WILL BE SECURELY MADE THROUGH PAYPAL
AFTER PURCHASING #ISUPPORT2C4F MERCHANDISE, OR DONATING TO 2C4F PLEASE TWEET (@FELONSNEEDHELP2) FACEBOOK, OR INSTAGRAM (@2NDCHANCES4FELONS2C4F) A PHOTO OF HOW YOU HELPED 2C4F WITH THE HASH TAG #ISUPPORT2C4F.
ALL SUBMITTED PHOTOS WILL BE ADDED TO THE WEBSITE.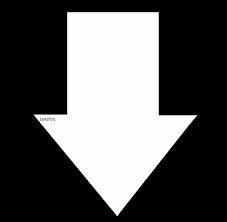 IF YOU ARE UNABLE TO HELP BY PURCHASING #ISUPPORT2C4F MERCHANDISE OR BY DONATION, YOU CAN STILL HELP 2C4F BY TELLING OTHERS ABOUT THIS WEBSITE, AND COMPANY. HELP 2C4F BY SPREADING THE WORD TO THOSE IN YOUR AREA THAT ARE LOOKING FOR A SECOND CHANCE, PLEASE SHARE OUR INFORMATION (BELOW) WITH OTHER PEOPLE THAT YOU KNOW. ANOTHER OPTION TO HELP WITHOUT PURCHASING #ISUPPORT2C4F MERCHANDISE, OR BY DONATION, IS BY SENDING IN INFORMATION TO BE ADDED TO THE WEBSITE ABOUT EMPLOYMENT OR 2ND CHANCE OPPORTUNITIES IN YOUR AREA. IF YOU KNOW OF AN OPPORTUNITY, PLEASE TAKE TIME OUT TO SEND AN EMAIL TO 2C4F . EMAIL ADDRESS PROVIDED BELOW.
2ND CHANCES 4 FELONS (2C4F)
SPECIALIZING IN ASSISTING FELONS WITH OVERCOMING DAILY OBSTACLES THAT THEY FACE DUE TO THEIR CONVICTIONS.
Offering FREE assistance to felons in all 50 states.
TWITTER
@FELONSNEEDHELP2
FACEBOOK
2C4F WEBSITE
INSTAGRAM
@2ndchances4felons2c4f
EMAIL
FELONSNEED2WORK2@LIVE.COM
SUPPORTERS, DONATORS & HELPING HANDS
WHO SAID
#ISUPPORT2C4F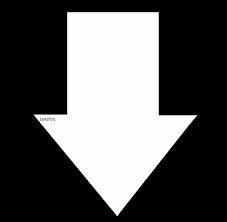 2ND CHANCES 4 FELONS (2C4F), WOULD LIKE TO THANK EACH & EVERY PERSON WHO HAS OFFERED ASSISTANCE, GIVEN ASSISTANCE, SENT IN INFORMATION, AND THOSE WHO WILL REACH OUT A HELPING HAND TO 2C4F IN THE FUTURE. YOUR GENEROSITY IS GREATLY APPRECIATED, AND WILL AID WITH HELPING 2C4F CONTINUE TO PROVIDE FREE ASSISTANCE TO THOSE WHO ARE IN NEED OF 2ND CHANCES.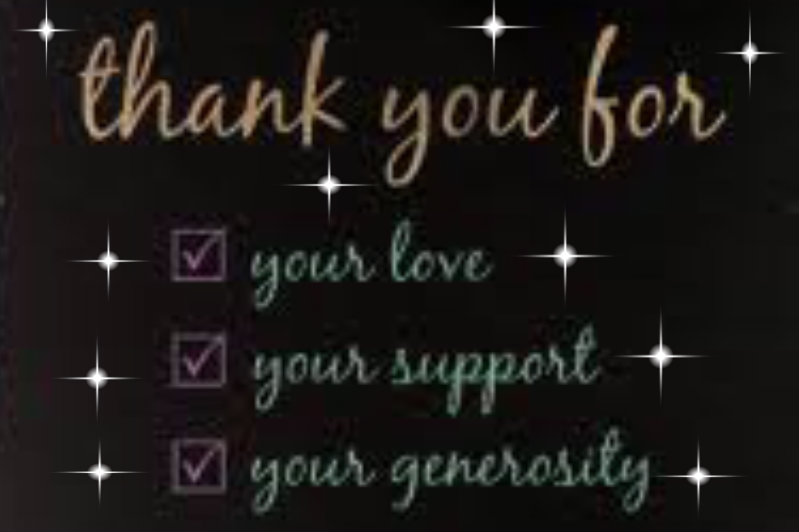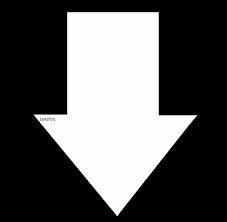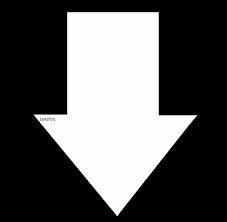 ****THE NEXT FUNDRAISERS WILL BE 2 RAFFLE TICKET DRAWINGS. THE DATES & PRIZES WILL BE ANNOUNCED AT A LATER DATE. STAY TUNED FOR MORE DETAILS. ****
@2nd Chances 4 Felons (2C4F)

2021 TM. Powered by #2C4FCEO